Well friends, last week was a rough week in Paraguay. I wish that I could check in and be Mr. Sunshine all the time, but that's not real life at all. To start it off, I began the week with a severe case of PMS (Peace corps Moping and Sulking... creative, eh? I should win a prize). If I were in the States earlier last week, I'd have been eagerly be packing my things and flying to Washington for an annual ski trip at Mt. Baker, enjoying three days on the slopes with my sister, her husband, and some of their friends that I've come to know over the past few years. The only skiing in Paraguay is the slightly unbalanced slide after stepping into a fresh cow pie on a downward incline. I take it where I can get it people and trust me--it doesn't compare to the
Daytona run down to chair 8
. Not even close. I mean, what I would give to just feel cold... a chill in the air... ANYTHING.
My first "skiing" experience in Paraguay... I've had numerous sense then.
Following that I ended up spending two days in bed due to a skull-crushing headache and fever that didn't seem to respond to ibprophen or Tylenol. I confess I had a weak hypochondriac moment where I thought I might have Dengue Fever. All I could do was flash back to the two times I read John Grisham's The Testament, where the protagonist spends I don't know how many days passed out in a South American hospital somewhere near the Pantanal... Yikes. Of course it was just a headache probably amplified by the ridiculous Paraguayan summer heat. This place is insane.
And to complete the circle of complaining for this post (sorry guys), there seemed to be an exponentially multiplying number of chickens, ducks, guineas, and cows wandering around my house and all over my porch. Complain if you want to, PETA peeps, but I will preach death for all farm animals everywhere for the rest of my life.
So needless to say, I had a few mental breakdowns last week. Moments where I am two or three thoughts away from packing it all up and heading back to my nice normal life in Ann Arbor. Oh Ann Arbor, I've been thinking a lot about you. I want to order a Jets Pizza and watch old episodes of CSI: Miami on A&E. I want to go read Harry Potter at my table in the Main St. Starbucks. I want to meet up with my friends at Jolly Pumpkin or Side Tracks and spend the whole night quoting 30 Rock, even though Rachel has no idea what I'm talking about. I want to go for a run down along the Huron River in Gallup Park... This week was the first week that I realized how much I really missed not just winter or Michigan, but life in Ann Arbor specifically. Which is honestly is strange because I never realized I loved Ann Arbor as much as I do. Guess it's one of those cases where you do don't know what you have until it's gone. Those of you not from Ann Arbor are probably bored to death by all this, but if you haven't been--you should. It's a great place to be. [/commercialPUREMICHIGANTIMALLENBUYAMERICANCARSGREATLAKES]
Oh Jets... I'm going to eat nothing but this after I get home.




Glasses on or off? He can't decide. WHY IS EVERYTHING ORANGE?



I could totally go for a burger and fries after 11PM, right? Who wouldn't?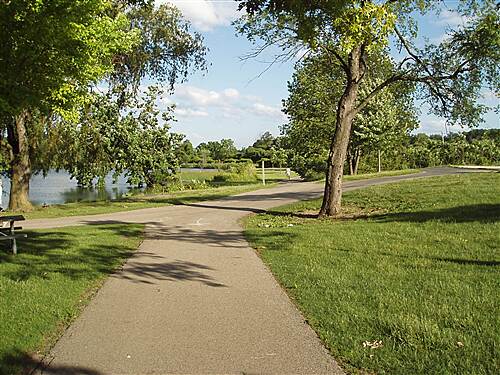 Gallup Park. When I'm here I'm usually in a very good mood or a very, very bad mood. Depends how the run is going. ;o)
My favorite hangout and reading spot. Venti black coffee please?
So anyways, how did this last end? Emotionally. Sometimes no matter how much I want to leave Paraguay, I know that this is exactly where I'm supposed to be for the next two years. If I chose to leave it all, I would regret it forever. Paraguay is teaching me so much about myself and what I want out of life. I'm learning things on so many levels--this experience covers it all: Emotional, Spiritual, Social, Professional, Physical... I'm growing (or shrinking) in all of these areas. I can't terminate this experience prematurely just because there are things here that get under my skin or because I miss home. Home will still be home when I get there in less than 2 years (of course unless something awful happens and the US ceases to exist... then I'm not sure if it matters if I'm here or not, haha).
God is working in my heart daily revealing things about Himself and myself. It's amazing how isolation can bring out our best and worst sides at the same time. Shoulder-Angels are real, people. I have a lot to learn, and I just have to keep at it. I'm trying to journal days/weeks like this so that I have it on record of how I dealt with it last time.
So, to those of you who I have been frantically texting, first I apologize for being clingy, and second I'M FINE. We're all going to have days like this. And for those of you reading this and finding out about this for the first time--settle down... it's all good (Mom, I'm fine). February is going to be a busy month. I'm going to visit my friend Mario at his site for his birthday on Wednesday up near Oviedo, and then the following week I'm going to visit John and Rosemary and ordering a hammock from their neighbor who custom-makes them, and then we have committee meetings in Asuncion that weekend. So I'm pretty much booked until the end of the month with work in site and travel out of it. Happy February, readers! It's a Leap Year!